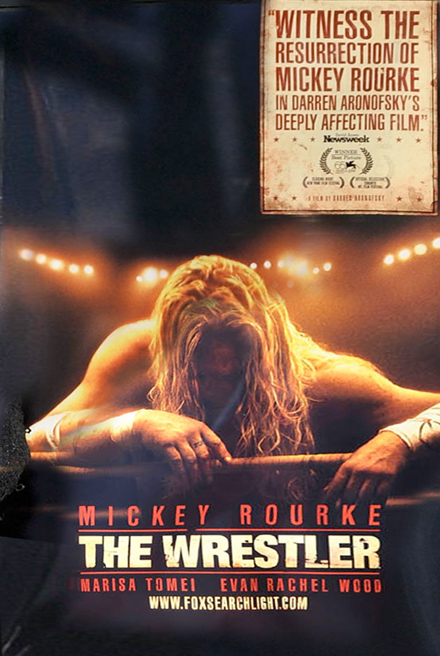 We've made no secret that we're huge professional wrestling fans here at blog headquarters. Been fans for 2 decades solid now, so when we heard that a serious movie (not a documentary or "Ready to Rumble") was being made about wrestling, we knew it was a must see. Throw in the fact that it had a "re-born" Mickey Rourke and an often naked Marisa Tomei, and you've pretty much got my money already. By the way, this post probably isn't going to bring the funny because, I liked the movie, and it's hard to shit on things you like. (Except for friends because I've made it my life's mission to kick Big in the balls as often as I can.)
So, "The Wrestler" opened in Dallas on Friday, and we packed up the bus with your two favorite bloggers and some of your favorite commenters for a blog field trip. Me, Big, Bear, Bizzle and Carl Badlander. Blogador was going to go with us, but he was on in-law duty. (Yes, I could make fun of him, but let's recap: we were 5 dudes going to see an indy movie and he was with his wife. Yup, we're in a great position to talk shit.)
Anyway, the movie. Fan-fucking-tastic. Cock-tacular. Ram Jam-merific. How's that for you?
I came out of the movie saying that it was really targeted at people who are either a) professional wrestlers and b) people who have never watched pro wrestling. The video of matches and works and scripts was very real and I was, what's a good word? proud? that people were reacting the way they were to some of the crazy shit that happens in wrestling. Hardcore matches, injuries, works for pops and heat, all of it. Having been a fan of the genre for 20 years or so, I had seen these kinds of matches, so it didn't surprise me, but it was the portrayal of Robinson that really had me wondering if I this what's happening with guys I watched long ago that have disappeared from the global promotions.
It was easy to think that you were watching Jerry Lynn or Marty Janetty or someone like that instead of Mickey Rourke acting, and I suppose that's the mark of a good acting performance. I've ready reviews about how former wrestlers in the 80's (think Rowdy Roddy Piper) have come out of the movie bawling like babies because of how closely it mirrored their own lives. Them turning their backs on anything tangible in "reality" just for one more moment to bask in the glory of fans cheering their name. Rourke nails it on the head in he final monologue he delivers at the end of the movie by echoing that statement.
If you walk in expecting to see "Ready to Rumble" and you're going to look at is as a joke, then you can go stick your dick in a light socket for all I give a damn. OR if you're going to be a pompous ass who's more interested in lighting, sound and searching for analogous and anecdotal imagery that Aronofsky is trying to capture by using these shots, then you can drown in your own douchbaggery and I hope you die of AIDS. However, if you just appreciate a good movie that you can watch and enjoy for 2 hours, I'd recommend you pick this up when it gets released or head to your local movie theater and check it out.
...
...
...
That might have been one of my douchiest posts ever. The movie's got MILF tits and lots of 'em. Hooray for Coug-Boob!