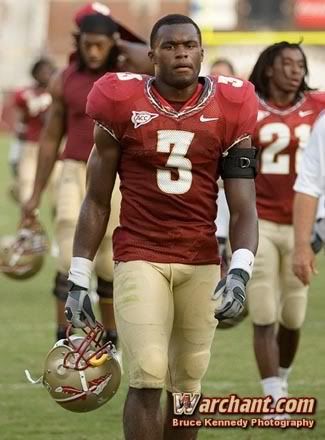 Smarter than the average Seminole
In a sport where we're used to Pacman Jones, Jerramy Stevens, Terrell Owens, Anthony Spencer and a host of other arrests and drama queens, here's a nice story that comes out of Florida State (of all places).
Myron Rolle, a safety from FSU, was applauded by this blog earlier this year for becoming a Rhodes Scholar. What he's doing is turning down the NFL this year to accept a one year scholarship to go to Oxford in London and work on his masters in medical anthropology.
That's right, he's turning down a guaranteed first/second round pick (aka millions of dollars) to go and join some of the most prestigious scholars in history as a Rhodes scholar.
He's still going to enter the draft in 2010, but the fact that the man is choosing his academic and personal growth at the cost of millions of dollars is pretty admirable.
I can't think of a lot of things I'd pass up a millions dollars for...except maybe a really nice hamburger. I like hamburgers.