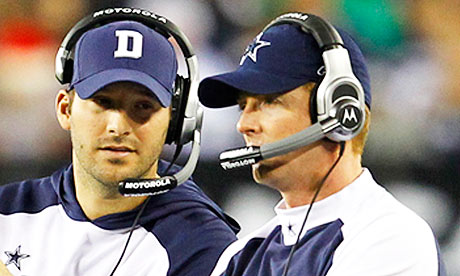 Patience, my young padowan
We'll see, I guess.
Unless you've been living under a rock or too busy watching Glee to take, you've seen that Jason "Garrett-Top" Garrett is officially the new Cowboys coach.  Based on him taking a 1-7, listless team and turning them into a competitive 5-3 team, he got the job and an unexpected vocal confirmation that he'll have final control over coaches and players.
Only 2 men have had that type of control under Jerrah, Jimmy and Parcells.   What does that mean for Garrett?
Who knows? 
Jimmy coached in a time without free agency and salary caps (don't quote me on the second part, it does make me look smart though).   He put together a team rife with talent, made big trades and operated without interjection from a novice Jerry Jones.  For all intents and purposes, Jimmy took this franchise and brought it into the modern era.  If Landry was #1 in the Cowboy coaching books, for our generation of Cowboys fans, Jimmy is 1A.  
Parcells came in on his white horse amid Gaily and Campo.  He took a lazy, underachieving team that Jerry had mutated, and brought them back to norm.  He didn't win playoff games or a Super Bowl, but he took the Cowboys from joke to back in the discussion.  Like with Jimmy, Jerry ceded control to Parcells.  Parcells, however, brought in the old guard (Pepper Johnson, Mo Carthon, etc.) and tried to re-create the magic he had in New York and New England.  He had the right philosophy, but the wrong execution.
Whitlock nailed it on the head when he described Peyton Manning over-thinking and over-doing. He said that the greatest quarterbacks of their time had a coach that was cerebral enough to think for them and allow the players to execute on the field.  To quote him, "Joe Montana had Bill Walsh. Tom Brady has Bill Belichick. Terry Bradshaw had Chuck Noll. John Elway had Mike Shanahan. Troy Aikman had Jimmy Johnson. Bart Starr had Vince Lombardi."  The NFL is a quarterbacks league, and if Tony Romo is the next Staubach/Aikman (great QB, rings) instead of the next Meredith/White (great QB, no ring), then he must have his Yoda.
Can Jason Garrett be that Yoda?  He says he's sat with Jimmy and Troy to learn from them.  Forget the Princeton education, does he have the sideline education?  He spent more than enough time behind Jimmy and Norv with a clipboard.  What has he gleaned?  Will he over-think it or will he be Tony Romo's brain for him?   Jason Garrett's job is to hire the assistant coaches around him to handle the player squads around him. His focus should be on synching his quarterback's brain with his own and letting Romo do it on the field.