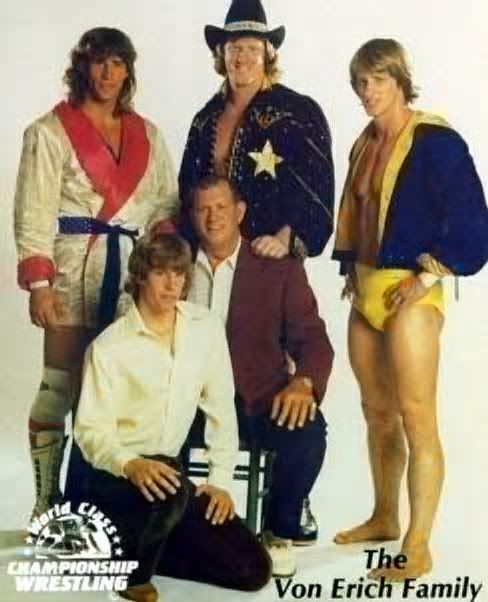 That's right, I imagine Dallas's sports gods are the Von Erichs
I think that somehow, somewhere, the Sports Gods have decided to temporarily hold their hands over Dallas.  I'm not sure if they've heard our bitches and moans and prayers.  It might be forgiveness for time served after Laura Miller doomed us all with the "parade incident" in 2006.  Either way, something is changing on the Dallas sports scene.
You might remember that since 2006, Dallas sports teams have broken hearts across the city.  It was a bit staggered, Rangers winning 80 games then returning to suck.  Mavs winning 63 games then flaming out against Golden State. Cowboys winning 13 games and returning to suck.  Stars making an improbable run to the conference finals only to be ravaged by injuries and losing this year.
However, I went to the Mavs game last night and noticed something I haven't noticed in a very long time.  First, the Mavs were playing some of the best basketball they've played since 2006.  Second, not a single fan in the house was "bandwagoning" (or so it appeared) .
Then, I get into the car to go home and flick on the Ranger postgame, and it dawns on me that the Rangers have started the season 2-0 and it has been a very convincing 2-0.  I know, there's 160 more games to play, but if you've ever been a Rangers fan, a 2-0 start with the way they've played these 2 games and the possibility to rock Pavano and then sweep a weak Detroit team and possible open 6-0?  That's nuts.
Compound that with all the stress reduction, fat cutting and new house moving that the Cowboys are doing and the fact that a disappointed Stars team is going to be healthy and hungry next sesaon, and you can almost feel a change brewing in the city again.
I'm not saying we're going to be sweeping all the major titles in a single year.  I'm not even saying we're going to in a single title.  What I'm saying is, perhaps the fans and teams have reached a sense of happy equilibrium…it's something to think about.