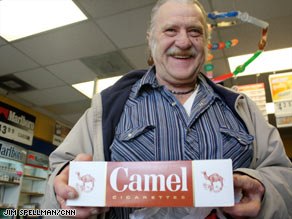 Big, in about 15 years.
Saw this story on CNN.com, and found myself hanging my head and questioning humanity. I might be one of the few people I know who doesn't smoke. Big smokes. Bear smokes. Whenever we leave a bar, I smell like I've been hanging out with Pete Rose's sister.
If you read the story, the old man says that the government is "picking on poor people". I'm gonna have to call bullshit there, buddy, as I'm pretty sure that a) no one forced you start smoking and b) the amount of money you spend on cigarettes could be spent towards quitting said cigarettes.
If you didn't read the story, the U.S. government has slapped the biggest tobacco tax ever today, almost 62 cents a pack. Pretty hefty, but do I give a shit? Nope. Do I support it? Hell yeah, I do. Why the hell shouldn't I? Last I checked, cigarettes cause cancer. I know that. You know that. The guy struggling to walk to his mailbox knows that. To quote KSK, "NO ONE DENIES THIS!" And, I think we can all agree, cancer sucks.
The government isn't banning cigarettes, and you're still allowed to have them. If they were making them illegal, it'd be a different story. However, if the government wants to tax the vices of the citizens, then I say it's a damn smart idea to build revenue. These things aren't a necessity to live, you wanna smoke cigarettes or drink alcohol that's fine by me, but you'd better be able to afford it. It's not a bad thing to take the concept and apply it to marijuana either. Make it legal and tax the shit out of it. It's a great source of revenue in these current cash strapped times.
If you smoke, either shut up and pay extra or quit smoking.