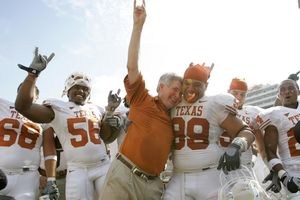 Mack get to Be the Cracker this Week!
Did you like that little Saturday of college football? I hope you did. In the greatest month of the year, we had what could have been one of the more entertaining Saturday of recent memory. Not only did we see 3 top 5 teams go down, but we the build up for the rest of the year only intensifies.
One more side note before my rankings. How bad does Georgia feel this morning? They have lost only once, and it was to the current number 2 team in the nation, yet they are ranked 10th. That's behind Florida(lost to unranked team), USC (lost to unranked team), and Oklahoma (just lost to number one team). So your telling me that loseing to Texas is 6 polls spots more impressive than losing to Alabama? riiiiggghhhtttt.
This is my top 10, in two tiers, in wrestling terms.
Main Eventers.No. 5 Texas
(win 45-35, No. 1 Oklahoma) What can I say about this fantastic game that hasn't already been said? Texas did what they needed to do to win, played just enough defense to win, got some love from the kicking game, and just flat out won the game. I really hope the Horns don't rest of their morals, they have a pissed off Mizzou team coming to town this week. !!!!EDIT!!!! Tommy Bowden just got canned in Clemson. Why did I put this here? I'm calling it, Muschamp goes there!!!!!
No. 2. Alabama
(idle) - Seriously, we need the SEC and Big 12 championship game winner to battle for the BCS title. Please don't take this from me. Bama didn't play this week, and they probably liked it that way.
No. 6 Penn State
(win 48-7, Wisconsin) - OK, so maybe Wisconsin isn't as good as people thought they were, but putting up 48 on them is crazy. State did it with Passing, Rushing, and Special teams on Saturday night. Daryll Clark had 244, and 3 total TD's. It was about 3 or so weeks ago I said i wasn't going to put a big ten team in the top
ten
yet here Penn State sits, my number 3 team in the land.
No. 7 Texas Tech
(win 37-31 OT, Nebraska) - Yes, the had to take the Huskers to OT, but a win is a win. With a team like Tech, you always here about their great QB's and WR's, and this year is no different with Harrell and Crabtree, but what won them this game was the play of Sophomore running back Baron Batch. 10 Rushes, 97 yards, with a long of 49. He has that big play, take it to the barn at any moment, that complements the spread so well.
No. 11 Florida
(win 51-21, No. 4 LSU) - LSU got by during the first 5 weeks of the season on the idea that last year they were very good, and this year they were going to bring back the same defensive mindset that made them so good last year. Thing about that is, that was last year. This year, they allowed 265 yards on the ground to Florida. 265! Freshmen Jeffrey Demps averaged almost 13 yards a carry, and had over 120 yards.
Mid Card GuysNo. 10 Georgia
(win 26-14, Tennessee) - Florida gets the nod over Georgia for fact they have beaten better teams, but the Dawgs aren't far behind them in the one loss category. 26-14 looks kinda close, but the game really wasn't at all. Georgia out gained Tennessee by over 200 total yards. Matt Staford had a very Romo like day, going over 300, but trowing the 2 picks that kept Tenn in the game.
No. 17 Oklahoma State
(win 28-23, No. 3 Missouri) - I am a big proponent of undefeated with an easier schedule is better than one loss with a hard schedule, but I can't put Oklahoma State in front of the two big one loss SEC teams yet. The win over Mizzou puts them in my top 10, and gives them a legit shot at a BCS title. But so far that is the only real nice win they have. They play Texas in 2 weeks, so we shall see.
How did they beat Chase Daniels? Getting in his head and picking off 3 passes helped, so did holding them to 2-9 on third downs. Another young star, Kendall Hunter, had a nice game running the ball for the Cowboys too, 24-154. Last week vs. A&M was the only time he hasn't gone over 100 this year, and he got damn close with 90.
No. 9 Brigham Young
(win 21-3, New Mexico) - Another day, another win for BYU. I put them up this far to remind everybody that they play TCU this Thursday, and its going to be one hell of a game.
No. 8 USC
(win 28-0, Arizona State) - Watch out for the Trojans, as they have now beating the two teams in the pac 10 with that had the best chance of upsetting them for a pac 10 championship, Oregon and Arizona State. Joe McKnight carried this team with his biggest game of the year, 12 touches, 150 yards. They have a real good shot at sneaking back in this thing.
No. 1 Oklahoma
(loss 35-45 No. 5 Texas) - Texas doesn't have an easy road to hoe, they have Mizzou, OSU, Tech and A&M still to play, so it isn't crazy to think they could lose 2 of those games. If they do, Oklahoma will be right there to retake the number one slot in the south. Bob Stoops beter have his boys ready, though, they have Kansas and the fighting Mangino's coming into town this week. Either they will play pissed off after the Texas loss, or be so dejected that Kansas can steal one in Norman.
Developmental Guys.
(not the next best teams, but some teams to watch out for)
No. 23 Michigan State
(win 37-20 , Northwestern) - There goes Browns Vandy-Northwestern BCS game, but Michigan State isn't a nobody. This team can play a little bit. They got a running back by the name of Javon Ringer, who already has over 1,000 yards and 14 touchdowns this year. He's a nice looking back at 5-9 202lbs.
No. 22 North Carolina
(win 29-24,
Notre Dame)
- As much as I think Notre Dame should have won this game, UNC has a nice little squad. WR Hakeem Nicks went over 100 yards for the third time this year with 141 on 9 catches vs. the Irish.
BCS Busters Watch.
No. 14 Utah
(win 40-7, Wyoming) only 242 yards, but 40 points. Wow.
No. 15 Boise State
(win 24-7, Southern Miss) - remember when Southern Miss was the next big thing? Not so much anymore as Boise held their QB to under 50% completion percentage.
No. 25 Ball State (win 24-7, Western Kentucky) - 200 yards on the ground will make even the coolest mascots hang their head.
Big Ups to all my Haters
upset of the week could go to any number of team, but I'm going to give the nod to
Mississippi State
with their 17-14 upset over No. 13 Vanderbilt. Thus putting Vandy back in their hole, with their shine box.
Local Love
Tulsa 37,
Southern Methodist
31 - Last second shot fail for the Ponys, but after Listening to June Jones talk today, he thinks the team has taken a step, and they now believe that they can win those type of games. Unlike......
Louisiana-Lafayette 59, North Texas 30 - I don't know if UNT can beat Euless Trinity right now. At one point, early in the third, i got a text, "hey man, we just scored and the score is 35-27 and just forced them to punt, I'm feeling it man!" Followed 2 mi nets later with "never mind we just through a pick, we suck again." That's some Dodge Ball brother!
TCU
13, Colorado State 7 - Ahh yes, TCU the only local team with some gusto. I know they are more than 6 points better than Colorado State, so I hope they were just looking foward to this weeks Sunday night bru haha vs. BYU. Frogs vs. Mormons, you can cut the Hate with a butter knife.