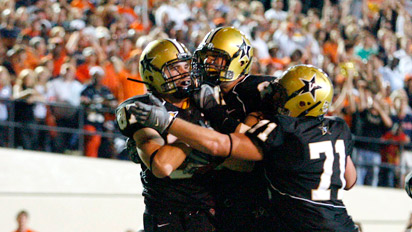 Holy Crap, maybe now I can get one of the 4 Hot Chicks
At our school! Hazaaa!
Last week we had the crazy upset Saturday that always happens in college football. Something like 9 teams from the top 25 lost, including several from the top 10. This week we saw a return to form so to speak, as all the top dogs not only won, but did so with some gusto.
Even thought, that doesn't mean the weekend wasn't full of good times. I hate to bring this back to wrestling (no i don't, i do it when ever I can), but to have a truly bad ass main event, you need to do certain things. Yea, it's cool to see John Cena vs. Dave Batista, but if its just a Monday night, and you flip on the TV, and Jim Ross says at the beginning of Raw, "Tonight we have a special match, Cena vs. (dave) Batista." Your excited, you know its going to be a good match, but you aren't really that invested in such a short feud.
How much better would John vs Dave be if over the last 3 or 4 or 5 weeks, each guy kept talking about the other one. Kept beating people up and then grabbing a mike to say "Dave, this is what I'm going to do to you." The anticipation is what makes people buy PPV's in wrestling. It's what keeps smucks like me watching week to week. All the build up and then POW! the match is here and you are pumped.
That's what happens in college football every week. You take certain games and circle them, saying this is going to be a good game. Then every week you cheer for both teams, hopping that each looks good and plays well so that when they finally do meet, they are both undefeated, at full strength, and popping on all cylinders. Everybody loves a fun little upset, but everybody loves the Main Event at the PPV even more.
That's what this week was about. Building the drama for the next couple of weeks. Here is the rundown.
Main EventersNo. 1 Oklahoma
(win 49-17, Baylor) - Normally this score wouldn't surprise me in the least, but Art Briles, the Baylor coach, brought over with him this kid Robert Griffin, who is a freshmen QB, and can out right play. He is the typical athlete QB, who makes plays with his feet. I thought the Sooners were going to have their hands full. I was wrong. The 52 yard bomb in the first 3 min was the message they wanted to send. They look stronger than Ive seen them in years coming to Dallas this weekend to play the Horns.
No. 4 Missouri
(win 52-17, Nebraska) - I really thought the Huskers were going to give Chase Dainiels a run for their money in the North this year, but just like the Oklahoma game, 3 plays into this one, Missouri sent a message that they weren't overlooking shit in this game. I know Missouri's offense was good, but putting up 462 yards of total offense is crazy.
No. 5 Texas
(win 38-14, Colorado) - I'm sure the majority of Texas fans watched the OU game earlier in the day, and thought to themselves "well, if they can do that, just watch what we are going to do to a better Colorado team!" Why? Because that's the way most Texas fans think. Thank goodness they did what they did. Now this sets up the super fight that everybody wants to see this weekend at the State Fair of Texas.
No. 4 LSU
(idle) - Are they for real? We find out this weekend when they go to Florida. The night cap of Main Event Saturday.
No. 2 Alabama
(win 17-14, Kentucky) - The phrase "trap game" gets thrown around alot, and in this case was true. The Tide needed all of Glen Coffee and his 225 yards rushing, because the "make or break" guy on the team, QB Jon Wilson, almost broke them against a shitty Wildcat team. On an interesting side note, my sports company did the Frisco Centennial game this weekend, and their QB is a stud, and he just committed to Kentucky. Interesting note(not really).
Mid Carders
No. 6 Penn State
(win 20-6, Purdue) - I'm going to regret this, but I am really starting to like JoePa's team. I will regret it because they are in the Big Ten, and they will probably lose this week. The dual treat QB Darl Clark proved he can do a little something something through the air this week, going 18-26 and 220, but it was the Defense that really proved they can play, holding a so-so Purdue offense to just 241 and 1 late TD. Time to prove your worth, they go to Wisconsin this weekend, who's pissed they pissed away a game vs. OSU.
No. 7 Texas Tech
(win 58-28, Kansas State) - On the road, against a team many thought would upset you, Tech rolls out 38 first half points. Grahm Harrell goes off for 454 and 6 TD's, doing his best impression of "don't forget about me bitches." They now have Nebraska at home, who got lit up by Mizzou, at Texas AM, who got lit up by Oky State, and at Kansas, who can't stop anybody from scoring on them. Look at what could happen in the next three weeks, Texas beats OU then goes down to Mizzou, LSU gets rocked by Florida, Penn State can't handle Wisconsin, Alabama gets shocked at Rocky Top in 2 weeks, and Mizzou can't score enough to beat Oky State this weekend, look who's your number one team, Tech! It sounds crazy, but not all that crazy.
No. 9 USC
(win 44-10, No. 23 Oregon) - At the end of the year, when we are looking at 4 or 5 one loss teams, somebody is going to say "Look USC, they are playing the best football in the country right now, they should be in the championship game." And a small part of me will die.
No. 8 Brigham Young
(win 34-14, Utah State) - Just for shits a giggles, what happens if the Tech scenario plays out that way, know who your number 2 team in the land will be? The Mormons. What can the BCS do if BYU is the only unbeaten team at the end of the year? They will be in the top 3 for sure if that happens, but will they keep them out of the championship game? Don't worry to much about this one, BYU will drop a game, probably to TCU.
No. 19 Vanderbilt
(win 14-13, No. 13 Auburn) - I don't really think Vandy has the 10th best team in the nation, but they do the 10th or so best shot at getting to the BCS championship game. The win over Auburn gives them some legitimacy, and if they rock out the rest of the SEC conference schedule (they won't) they are in the hunt fo sho. The win also gives offensive coordinators in the SEC nightmares about having to play another good defensive team. You know what keeps Vandy warm at night? That's right, those degrees.
Deveolpmental Guys.
(not the next best teams, but some teams to watch out for)
No. 21 Oklahoma State
(win 56-28, Texas A&M) - I was kinda pissed they didn't have this game one TV somewhere, not because I'm a big Aggie guy (i am), but I really wanted to watch OSU play, and more specifically, Zac Robinson get his 5 TD's.
Notre Dame
(win 28-21, Stanford) - I know its only Stanford, but a win Saturday brought the Irish record to 4-1. That's almost bowl eligible! I'm not going to say that this team is back, and are ready to take on the top 10, but I have been pleased with what the Irish has been doing recently. Jimmy Clausen when 29-40 347 and 3 td's. This week they get a solid UNC team, and if they win that one, they need to be looked at like a top 25 team again.
BSC Buster TeamsNo. 17 Boise State
(win 38-3, Louisiana Tech)
No. 15 Utah
(win 31-28, Oregon State)
Big ups to all my haters
upset of the week is not from a game, but just form an idea of life.
Ball State
is ranked, and that's fantastic. Silly sophomoric driven Bloggers(read:us) are excited that Ball State is ranked.
Little Bit of Local Love.
TCU
(win 41-7, San Diego State) - Held SDSU to 85 total yards, including -13 rushing. That's what I'm talking about.
SMU
(loss 31-17, UCF) - almost at bad a loss as.....
UNT
(loss 42-10 Florida International) - I have a feeling we might be looking at a 0-12 record. yeesh.