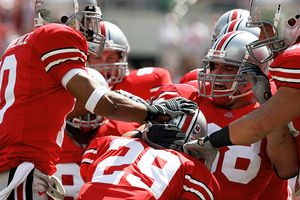 Haha, You were last, you eat the cookie!
Its always nice when the schedule works out for you. This last Saturday was UNT's first home game of the year. I love going to games at UNT and I love drinking cold beer out in the parking lot of Fouts Field even more. The only bad part about doing this is I miss most of the live college football games on TV.
Now I have a DVR, and I recorded the "big" games and post game shows on ESPN, so I can start my NFL Sunday with a college recap from the day before, and also all the bars in Denton have Sports Center and the late games going on mute the rest of the night.
That said, what a perfect day to
not
watch college football this weekend. With only one upset and only a handfull of close games, I didn't feel I missed all that much this weekend, and the Round Up shows it, as all the Main Eventers have stayed the same, and only one team dropped out of the Mid Card level.
So here we go, again the teams are voted on who can win the BCS championship, and who is right there, presented in order of most impressive.
Main EventersNo. 5 Florida
(26-3, Miami (FL)) - winning only 9-3 in going into the 4th, 17 unanswered points gave the Tebow's a nice win.
No. 4 Oklahoma
(52-26 Cincinnati 26) - Take away the kickoff return for a TD and a last second TD and 52-12 looks even better for the Sooners.
No. 2 Georgia
(56-17 Central Michigan) - Knowshawn Moreno, 9.3 yards per carry. Wow.
No. 1 USC
(idel) - ahh yes, they played the ever daunting nobody. Two weeks to prepair for Ohio St. This may not end well for the Buckeyes.
No. 3 Ohio State
(26-14, Ohio) - Losing going into the 4th, 5-15 on third downs, no down field threats, I really hope this team was looking past Ohio, because if they weren't, they are going to get rolled by USC this week.
Mid CardersNo. 6 Missouri
(52-3, Southeast Missouri State) - That is how good teams should play against bad ones. 592 total yards. Nice.
No. 10 Texas
(42-13, UTEP) - Does 1-6 on third downs and getting out gained on total yardage to UTEP bother any Texas fans? A win is a win non the less.
No. 8 LSU
(Troy) - Game was postponed due to the shittyness that Gustav caused Baton Rouge. I've got an uncle over there and he's still without power. I was looking forward to seeing what Troy could do, but I'm glad people realize that sometimes there are more important things than football.
No. 9 Auburn
(27-13, Southern Miss) - I guess the spread attack of the Auburn passing game will take a few weeks to get going. While not bad, 21 of 34 for 228 doesn't make me think of the Run and Gun, put all the women and children to bed and go looking for dinner that the War Eagle's promised us.
No. 14 Kansas
(29-0, Louisiana Tech) - With WVU losing, that opened a mid card spot up for another team, and I was on the fence between Kansas, Alabama, and Wisconson. Alabama has a better win, yet I don't really believe in them, and I refuse to get tricked again (like i do almost every year) in thinking the Badgers are worth a damn, I'm going with Kansas.
Todd Reesing was 32/38, for 412 yards, 3TD's and no picks. That's pretty damn good.
Developmental Guys.
(guys to keep your eyes on, not necessarily the next 5 best teams.)
No. 13 Alabama
(20-6, Tulane) - Got out gained 172-318, yet help the green wave out of the endzone.
No. 15 Arizona State
(41-17, Stanford) - For the past 5 or 6 years, Arizona State has been trying to catch up to USC in the Pac 10, and every year they get a little closer. Watch out for this team and their pretty good QB, Rudy Carpenter, ( 27/36, 345, 3TD's, 1 int).
East Carolina
(24-3, No. 8 West Virginia) - Holy crap I was only joking when I said ECU could beat WVU. This team could be for real, Balanced, Efficient, Selfless, all quality for a BCS buster, and now they have 2 wins over top 15 teams. That's better than anyone else in the country.
No. 12 Texas Tech
(35-19, Nevada) - Not a good day for Graham Herrell, 19/46 for 297, 1 TD and 2 picks.
No. 19 Penn State
(45-14, Oregon State) - They beat a pac-10 team, albeit not a very good pac 10 team, handily. Could this be JoePa's last great run?
The
Big Ups to all my Haters
weekly upset of the week going to
ECU
. Duh.
And lasty, like I said earlier, I went to the UNT game this weekend where we got drilled by Tulsa, 56-26. I didn't think we had a shot in this game, as Tulsa is a decent little team, but having 42 dropped on you during the first half was tough. Just to clarify, when I said I went to the game, I ment I went tail gating, and then listen to the first half from the parking lot, then went to the bar to watch the rest of the game. If the game was even kinda close, I probably would have went in for the second half, but it wasn't. Is that sorry? Probably, but that's how I roll. Deal with it.