So the Mavs are on a little bit of a slide. Thats cool. I get it. But over the weekend the Mavs saw some old faces, and saw a Big German become their
all time leading scorer.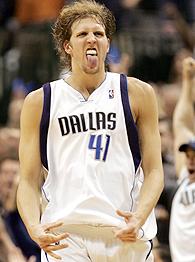 Thats my wunderkind.
As for the game, Dallas smoked the Nets 111-91 in a contest that wasn't ever really close. Dirk had 34, Stack 20, and Kidd threw in his 13 dimes. Surprising play of the night? Brandon Bass had a season high 19 pts off the bench.
We got to see our former players Devin Harris(9 pts 2 assists), and Diop(1 pt 5 boards) struggle, so that was kinda nice for the whole Kidd trade flavor.
But the story of the night was Dirk. He passed Ro Blackman with his last 2 points in the 4th quarter, to become Mr. Dallas Maverick.